POLAR SKATE CO. SHOWS US WHY FASHION IS JEALOUS OF SKATEBOARDING
POLAR SKATE CO. SHOWS US WHY FASHION IS JEALOUS OF SKATEBOARDING
Any skater can now record and share footage with as big a platform as that of major magazines, and the result has been a paradigm shift within the culture. It is no longer about doing the most difficult trick, but presenting a style that resonates with a set of viewers.

What is Polar Skate Co.'s commitment?
Like the flow of posts through social media, skateboard graphics are inherently ephemeral. They are destined to be worn and scuffed and distorted until all that remains is smeared paint and exposed wood. But some images are designed to linger, if only in the imagination.
You could say veteran skateboarder Pontus Alv saw the writing on this wall when he drew one of the sport's most resilient board graphics for his company Polar Skate Co. It features a Matisse-like woman performing a no comply, a trick that involves leaping off the ground with one foot while using the other to propel the board into the air. This image is almost a visual mission statement for the brand, but also indicates the extent to which skating has diversified aesthetically.
What does it represent for skateboarding?
Founded in Malmö, Sweden in 2011, Polar represents a shift in skateboarding towards independent companies that serve a more niche audience. In interviews around the time of the brand's launch, Alv earnestly described his disillusionment with the industry's status quo, explaining that he wanted to create something that treated skateboarding with reverence and not just as a commodity.

The 90's return to Polar clothing
This idea translates down to the clothes. Polar manages to articulate skateboarding's creative energy in its understated, playful garments. The brand's clothing incorporates the art of team riders—like a jacket featuring drawings by Dane Brady—and takes inspiration from their individual styles. Even when it's not coming directly from the team, Polar relies on a sort of fraternal order of skateboarders for inspiration––an expansive archive of skateboarding's past, harkening specifically to the 90s.
The widespread obsession with 90s fashion—think of the baggy silhouettes dominating this fall's lookbooks, or the booming market for vintage tees—has long been apparent. For skaters today, the 90s represent an era before the culture became saturated by popularity in the early 2000s—think MTV's Jackass or Viva La Bam.
Much in the way that twentysomething New Yorkers have an imagined affinity for the Kids era, skaters, rightly or not, view the 90s as a time more committed to having fun. Polar nods to this time in the sport's history, but in a way that puts both its style and its function on even footing.
The brand's latest collection features garments that conjure the image of outfits worn in classic skate videos like Osiris' The Storm, or Transworld's The Reason, only with modern subtleties. A three-quarter zip pullover doused in a deep purple, tees with chunky teal and obsidian stripes, a mock neck shirt with colored lines encircling the collar, baggy jeans called "Big Boy Jeans," a puffer jacket literally called the "92 puffer."


The rise to the skate scene in Malmö
For Alv, who is credited with giving rise to the skate scene in Malmö, this is an ethos worth replicating but not copying. In 2005, after leaving the professional skateboarding world, he released the video The Strongest of the Strange, a black-and-white film that, at the time, was as experimental a skate video as anyone had seen. It featured Alv's crew of then-unknown Malmö skaters ripping a bevy of DIY spots in abandoned warehouses, sidewalks, and just about anywhere else four wheels could roll.
This visual trope extends in Polar's recent videos in collaboration with Converse. In the clip LA Days, filmed in Los Angeles in 2016, a custom-built plexiglass quarter pipe turns a boardwalk into a performance hall. In their 2015 clip, Manhattan Days, which was filmed in New York City, a replica of a cellar door follows the team around the city, transforming mundane landscapes into complex street spots. This is an extension of the intellectual underpinnings of Polar, expressed and captured visually.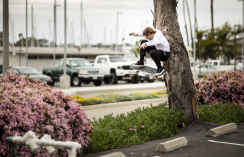 Fashion and Skateboarding: two sides of the same coin?
Just as these public interventions are only interesting when in use, skate clothing only takes on meaning and grace as a byproduct of its activity. As a culture, skateboarding is at once repulsed by its commercial underpinnings and obsessed with them. The skate deck itself doubles as a piece of promotional material, carrying with it a host of implications aesthetic and otherwise. Everything from the length of a skater's pants to the nature of the tricks they do is effectively an act of branding, of aligning oneself with a particular style. The considerations are unconscious and intangible. In this way, recent developments in skateboarding and fashion share key characteristics, and it makes sense the former continues to transfix the latter.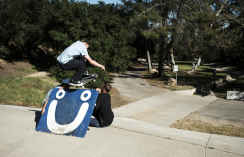 From streetwear crossover brands like Palace and Supreme, to the recontextualized workwear looks that proliferate across collections each season, the unconsciously sartorial motivations of skaters are irresistible to fashion designers precisely for their subtlety. Skate style, at its best, is comfortable, elegant, and unique all at the same time—much like a no comply.

Jeff Ihaza is a freelance writer and producer in New York. His work has appeared in GQ, The Fader, The Outline, and more.