Vans: urban life and skateboard with style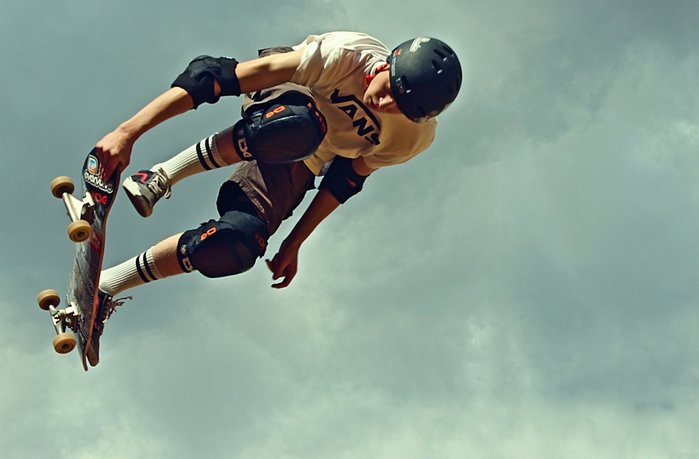 Vans, style and skateboard go hand in hand. Recognized as a symbol of urban culture, Vans shoes haven't earned their space just for the sake of it; their durability, design variety and comfort have made them a legend that everyone can aspire to.
When the demands of skateboarding demanded shoes that would hold up to the board, Vans gave them to him. Its vulcanized rubber sole was the step into history, but its premium canvas also served for more skateboarders to come to Vans for protection and style. After all, who isn't looking to feel free while being protected and showing off their best tricks and stunts?
Skate shoes par excellence have been around for more than four decades and are the bearers of great chapters in the history of this and other extreme sports. But their success has been profiling not only by their unmistakable design where the sidetrip is a must of every classic model.
Vans shoes have been successful because of their wide sole that provides grip, an important value in speed sports such as skateboarding or bikecross, and because they are comfortable and cushioned enough inside to protect the foot from chafing. Two values very appreciated by any skateboarder at heart. Also their clean designs, where less is more have that gift of attracting even the most skeptical.  
As time has passed and demands have increased, Vans has diversified its shoes. The Old Skool have been around since 1977, waiting for those who want to experience the classic skateboarding rebellion regardless of age, but there is more! Always adhering to the motto that less is more, Vans has styles in vibrant colors like the Vans Salt Wash Slip-On, or the Vans Authentic Canvas shoes, which provide fresher and more youthful looks.
Vans also has his line of boots. These came about after their creator realized the importance of protecting the ankles in the midst of so much pirouette, since skateboarding is a demanding sport where the footwear must not only be comfortable but also provide protection.
In these times their interest in pleasing the most demanding continues to adapt and offers exclusive designs and special editions where prominent figures and brands collaborate like, so that wearing a Vans is also synonymous with freedom and good taste.
How do I show off my Vans?
The Vans are made in various designs so that they can to show off the most serious offices. It all depends on the combination to succeed. Classic vans can be worn with formal looks, usually their minimalism matches single-bottomed shirts, like white ones, for example.
They also look good in classic jeans and checkered shirts, and even in the difficult paper bag style pants, which require some dedication to match and look good. They also bring that style of freedom to formal checkered or single-bottomed pants. And it goes without saying that the skateboard style, made for this purpose, the Vans have nothing more to wear to provide a unique style between pans and sweatshirts.
If the vans are new and are not proving comfortable then they can be adapted to the foot by wearing a pair of thick socks. Wearing them like this for a couple of hours a day will stretch the canvas and they will fit like a glove.
How do I clean my white vans? 
Almost all vans have a white edge on the sole area, which is easy to clean with water, soap and a brush, but the white ones are classics that can be kept spotless as if they were coming out of the store with these simple steps: 
Bicarbonate:

this mineral can be effective in cleaning vans. A little bit, slightly moistened is enough to rub with a brush the dirty area, then you can clean it with a dry towel and repeat until all the dirt is gone.
Oxygenated water: when white shoes are washed, they can be left with yellow stains. To solve the problem of these stains, they should be immersed for 15 minutes in a diluted oxygenated water mixture before being dried.
Toothpaste: This other trick will be very good for keeping your shoes clean. You should rub some white toothpaste on the area of the stain with a brush, then moisten it a little and repeat the operation. Excess water should be removed with a dry towel so that no stain remains.
Soap and water: Liquid dishwashing soap and warm water work wonders too. Just dissolve a trickle of soap in warm water and mix it, then moisten the brush and rub it into the dirty area until it disappears. If you want to wash your shoes you can also get good results with this mixture.
Flour: this technique is as old as it is effective. The shoes are washed as usual and at the end excess water is drained off. Then they are dusted with the flour and dried. When they are dry, the excess flour is removed with a dry brush and they are as good as new.
Off the walls
It's been over 40 years since Paul and Jim Van Doren started in the world of sneakers. Manufacturing and selling them directly from the same location in Anaheim, California. Their quality and style spearheaded a challenge to the canons of that time, and though the years pass, they always find a way to surprise even the most skeptical.
The Vans have come to satisfy young and old, there's no secret code to their success. Comfort, quality and style have been the perfect amalgam for it to be profiled even 40 years later as one of the favorite brands among free souls and young people who seek their own space defying gravity or canons.
From the classics now known as Old Skool, to dream creations with renowned figures from the world of skateboarding or other areas, Vans is much more than just shoes. Because of its unique designs, Vans has also become the artistic expression of doing great things by breaking down obstacles, no matter what they are, and getting to where you least expect them. 
Be the first to comment...